A rock with chain; the most beautiful monument of Kemaliye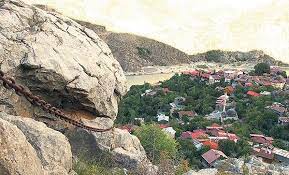 Kemaliye (Eğin) was one of the most beautiful resorts of Eastern Anatolia. As it is located in a valley, it has a unique beauty. It resembles a wild animal that is chained.
A rock which was over the historical town of Eğin created a danger for the residental area. If it had fallen, it would have caused a big damage in the town. So the authorities decided to chain the rock. Its location is on unbelievable slope. So it had a danger potential. It was chained by the authorities of the town.
It is absolute that it is one of the worth visiting places of Kemaliye….
Eastern Anatolia is as great as the western region of the country.
Discover Turkey…..