A Wonderful Canyon in Turkey; Girmana Canyon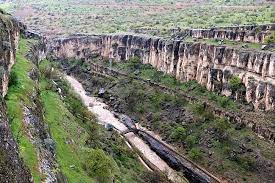 Turkish landscape is full of many natural beauties. The picture above is from Eastern Anatolia. Its name is Girmana Canyon. It is located in Hekimhan county of Malatya province. It is thought that its forming started 35 million years ago. The breathtaking views of the canyon and rocks impress the outdoor sportmen. Also it provides great picnic and camping opportunities.
The creek is shaping the canyon up to its stream bed.
Discover Turkey and explore the nature…