Amasya; the city of Ottoman princes'
We have a city that is located on Central Black Sea region. It is a cute and historical city. Also it was established on the skirts of mountains. It is dated back to Hittite Empire. Also this region protected its importance in later periods. Its real fame came in Otttoman Empire period.
Before its historical background, the natural landscape of the region is taking our breath away. The nature is very impressive here. Don't forget to schedule a visit to Amasya.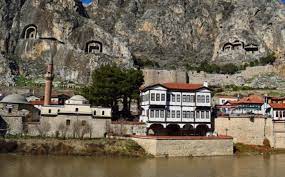 As ı have stated before, its real fame is coming from Ottoman Empire period. The Ottoman princes were the natural canditates of Ottoman throne. They should have been trained to rule an empire since the childhood. Then they should have practiced their lessons in a strict of empire. Thus they were sent to little districts in order to improve their skills. Amasya was one of those stricts. Many Ottoman princes ruled this district in the name of Ottoman Sultan.
Also Amasya became an important place for our independence war. National forces of Turkish Assembly provided arms and goods from this province. After the modern Turkish Republic was declared, it became a historical city.
In recent years, the architecture of Amasya became one of the impressive local architectures of Anatolia. The houses have original plan and they are under protection of UNESCO.
Discover Turkey and travel in time….