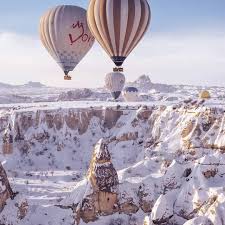 It has been mentioned several times that tourism is a vital industry for Turkey. Turkish Republic as a whole country is a tourism country. Our values and reputation are our the most important things for us. None of us have right to sabotage Turkish tourism.
According to the latest news, hot air baloon tours were banned by the governorship of Nevşehir. It is the biggest sabotage that can be done to Turkish tourism. Despite all warnings, governorship of Nevşehir province rejected to remove a ban on hot air baloon tours. All region's income depends on hot air baloon tourism. Especially international tourists, tourists visit Cappadocia for hot air baloon tours. The most interesting event is that hot air baloon tours were banned in Denizli province but it was unbanned later by the governorship of Denizli. It seems that there was a conversation between two governorships then hot air baloon tours were rebanned.
I wish that it hadn't been happened. It is a sabotage for Turkish tourism. Our international reputation is going down. After providing healthy conditions, we can provide a great service for our guests. I hope that the authorities fix this situation and our loss got less.
Discover Turkey……..