Cisterns; the most important buildings of ancient sites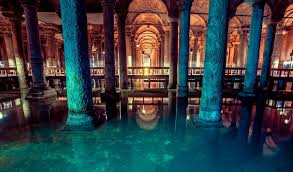 Water is the source of life for living organisms. Human being needs water to live like other living organisms. Water is the basic necessity for building a civilization. On the other hand, the ancient and medival cities were built in walls. It means that in case of a siege water should have been restored in order to resist the hunger and thirsty.
Since the beginning of building villages and cities, the human being has been looking for solutions to solve this problem. Cistern is one of the solutions. They were built so big that the water storage was a big capacity. For example, it is guessed that there are hunderds of cistern in old Constantinople. Some of them are very big, some of them are small. The purpose was common; to keep water. Roman engineers did a great job to achieve this goal. Even today we admire this technology.
Also we can express those statements for other smaller sites. We can come across cisterns in every ancient site. This construction method contiuned in medival age.
Basically, controlling water is the key of building a civilization. Ones who achieve this can control all life. We still talk about Roman technology and use them at present.
Discover Turkey and travel in history…..