Underground tunnels of Gaziantep Fortress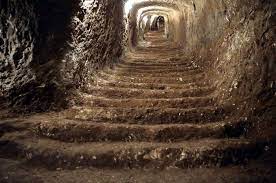 Gaziantep fortress is the symbol of Gaziantep city. As a result of archeaological excavations, new tunnels and caves were discovered. Those caves are full of water. Before this discovery, there were some stories about some channels. Particularly this myth was solved.
Tourism and Cultural unite of Gaziantep arranged a project to open this site for visit. It will prepared for visit. So Gaziantep fortress will be more famous in touristic world.
Discover Turkey and travel in time….