An Istanbul mystery; Are Conquerer Sultan Mehmed and Constantine I buried in the same tomb?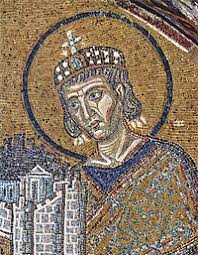 The history of Istanbul is actually very impressive. The city is full of legends and mysteries. Some of them are well-known by the public. But some of them are forgotten or liberately hidden. This one is intentionally hidden by Ottoman dynasty.
After a hard rain in Istanbul, Fatih region of Istanbul had a lot of rain in 19th century AD. Conquerer Sultan Mehmed involved the dreams of local people; rescue me, I am choking. This event was heard by the Ottoman Sultan. He hired two people in order to investigate it. They entered into the tomb of Conquerer Sultan Mehmed. But they explored that the body of Conquerer Sultan Mehmed wasn't in the grave. They discovered a tunnel to the Fatih Mosque (it was built on a Byzantian church which included the tomb of Constantine I). Then they entered in a tomb that two emperors were in the same place. They reported it to the sultan. Ottoman Sultan ordered them to be silent about this event.
Constantine I was the founder of the city and Conquerer Sultan Mehmed was the Muslim sultan who conquered the city for Ottoman State (Then the Ottomans were stated as Ottoman Empire). According to the mystery and legends those two rulers are sleeping together under the soil. Their common point is their destiny on this city not their religions.
Whether it is true, the city is keeping two rulers together…..
Discover Turkiye and travel in time…..